What is coaching?
It is partnering with clients in a thought-provoking and creative process that inspires them to maximize their personal and professional potential. Coaching is a confidential process that provides structure and accountability to work toward an identified personal/professional goal. During this process, individuals reflect on current challenges and expand, refine, and build new skills.
As a coach, I am the expert in the process of coaching and my clients are capable, resourceful, creative, and whole. I use guided exercises and inquiry to explore how your values, learnings/new thoughts, and ideas might influence how you are approaching your goals and your overall leadership.
The first step in the coaching process requires values clarification and goal setting. This­ means paying attention to the following:
What do you believe?
What guides you in your actions?
Where do you see yourself in 10 years, 5 years, and 1 year?
What would you do if fear was not an issue?
Coaching can be a helpful process for any leader, particularly for complex issues such as implementing new programs, growing your staff, developing sustainability plans, and working on social justice and equity issues. I also provide training on coaching skills for managers, so they can coach their own staff.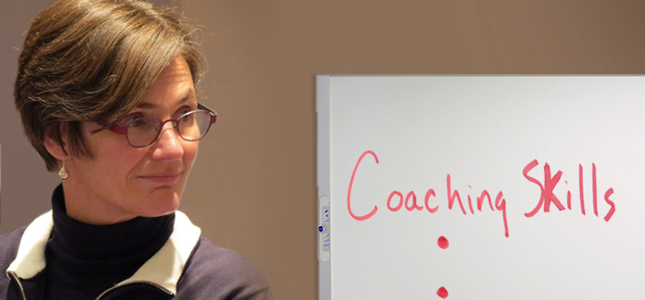 Contact me for more details about coaching services. I offer "Just in Time" one-session appointments as well as coaching packages that can be applied to individual leaders and team coaching sessions. Coaching can be successfully provided in-person or virtually.