Dynamic, Interactive, Outcome-Based
My mission is to provide training and coaching to build healthy individuals, organizations and communities. I support the success of children, families, communities, and the organizations that serve them. I offer training, consulting, and coaching services in:
organizational development
staff and board enrichment
health and education issues
anti-bias, equity, and inclusion
I can customize programs to meet your learning and development goals. People learn best when they are respected and recognized for the unique contributions they bring. My approach is strength-based, values-driven, and learner-focused. Organizational success depends on the success of individuals and teams. I believe quality training and coaching can be delivered in many ways; I have years of experience providing in-person, virtual, and blended formats. I look forward to applying my experience and expertise to support your success.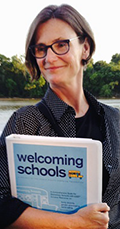 Tracy Flynn, M.Ed. is a mission-driven relationship builder, working on focusing the perspectives of multiple groups on common goals. Her broad experience in local and national health, welfare, and education institutions and her proven ability to lead the delivery of effective, culturally competent programs makes her a nationally recognized trainer and educator.